Publish date: 20 January 2022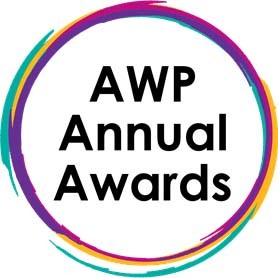 Do you know a member of staff or AWP team who goes above and beyond?
Our staff are a unique group of people who provide care and support, promote recovery and give hope to our patients, families, friends and carers every day.
We know that's what we are here to do, but… we also know we have some very special staff who help make a real difference to the lives of others, by making improvements or by simply being the people patients and service users can rely on to feel safe, wanted and valued.
The 2022 Annual Awards are planned to take place in May and we want to recognise those who have gone the extra mile and have never given up in the face of adversity.
The full list of categories for this year's Annual Awards is listed below:
Compassionate Care - this award is for an individual or team who shows extraordinary compassion to meet the individual needs of service users, carers and families.
Everyday Excellence - for an individual who is simply brilliant at their job.
Leader of the Year - this award is for an individual who demonstrates exceptional leadership skills to drive and support the ambition of the organisation to be outstanding.
Lifetime Achievement - to honour an individual who is highly regarded as an "expert" in their field and who, over their career has made significant contributions to the quality of services.
Professional Excellence - an award open to all staff who provide exceptionally high standards of patient care or support to our services.
Quality Improvement and Innovation - an award for staff who have been involved in quality improvement or innovation for the benefit of patients or service delivery.
Volunteer of the Year - for a volunteer who has selflessly volunteered their time and energy and made an outstanding contribution to the area that they support.
Empowering and Inclusive Practice- an award that showcases equality, diversity and inclusion in an area of work.
Involvee(s) of the Year - an award for an involvee or group of involvees who have made a real difference to the lives of our patients and/or carers.
Learner of the Year - open to all learners who are involved in a wide range of learning scenarios including, (but not limited to) apprenticeships, leadership courses, student placements, training programmes, webinars, conferences etc.
Making a Difference - an award for non-clinical staff who provide an exceptional level of support and leadership to enable our frontline services to deliver effective and safe care.
Putting Patients First - an award that embodies and embraces patient care.
Rising Star - an award for an individual who has been newly recruited into post or started with AWP within the last 12 months.
Nominations are open to everyone - staff, patients, carers and families. The closing date for all nominations is Monday 21st February at 12pm, so make sure you get those nominations in quickly to give our wonderful colleagues the recognition that they deserve!
To vote online click here.
To download a paper copy of the nomination form click here.