Publish date: 3 February 2022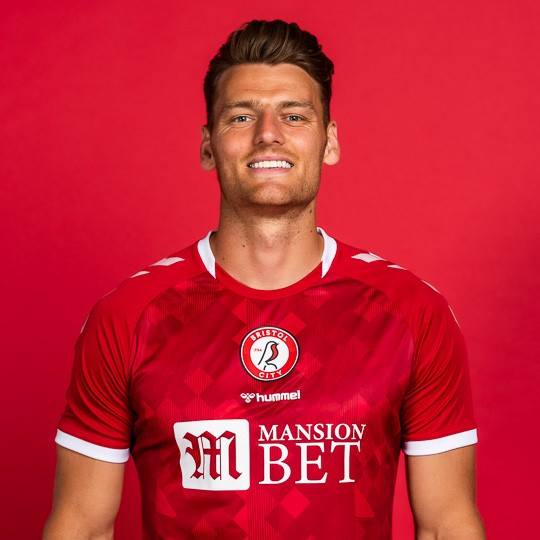 An NHS sporting programme, which uses physical exercise to improve mental health and prevents people from becoming socially isolated, has a new ambassador.
Bristol City Football Club player, Chris Martin, has become a new volunteer ambassador for Avon and Wiltshire Mental Health Partnership (AWP) NHS Trust's Recovery Through Sport programme.
The programme, which last year won the Project of the Year Award at the Gloucestershire Football Association and McDonald's Grassroots Football Awards, was set up by the Trust's Early Intervention in Psychosis team in South Gloucestershire to improve the physical and mental wellbeing of those under the team's care.
The volunteer ambassador role involves helping to support the programme by raising awareness of its work, attending events and encouraging others to get involved.
Chris, who joined The Robins in 2020, said: "I am truly grateful to be able to give back to this wonderful project. I know the support of the team is having such a positive impact on the community, and as someone who has experienced a close relative struggle with their own mental health, I can empathise with the challenges that everyone involved with the project faces on a daily basis."
Jacob Kelly, Mental Health Support Worker at Avon and Wiltshire Mental Health Partnership (AWP) NHS Trust, who runs the Recovery Through Sport programme, said: "Having Chris join us as a volunteer ambassador is really exciting. We can't wait for him to join us in a training session and get involved with our events in the future. He is incredibly engaged with the work we are doing using sport and exercise to improve the wellbeing of those with mental health conditions, and it's great to have his support."
Dan, who attends the Recovery Through Sport sessions, said: "Playing with a group of people who all have problems but come together to support each other through the sport programme has definitely had a major impact on my wellbeing and my health. It has helped me on the road to recovery to gain confidence and self-esteem."
The Recovery Through Sport sessions take place every Thursday at Shaftesbury Park, Frenchay, Bristol, BS16 1LG. The group is free and open to anyone over the age of 18, of all abilities. For more information or to find out how to get involved call 07785 342 192.