Publish date: 5 July 2022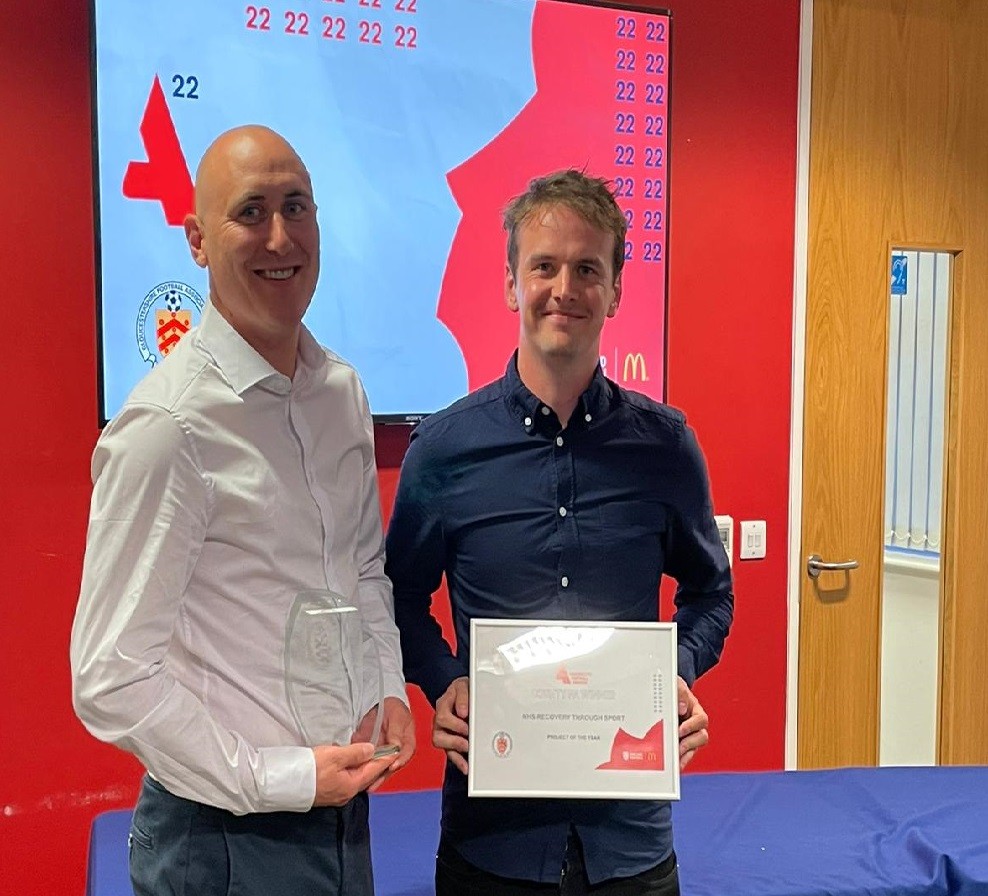 A sports programme in South Gloucestershire that supports people with mental health conditions has won a top award for the third year in a row.
Avon and Wiltshire Mental Health Partnership (AWP) NHS Trust's Recovery Through Sport programme, which uses football and other physical activity to reduce social isolation, received the Project of the Year Award at the Gloucestershire Football Association and McDonald's Grassroots Football Awards 2022.
The Recovery Through Sport programme was set up to provide football sessions for those under the care of AWP's Early Intervention in Psychosis team in South Gloucestershire, to improve their mental health through physical activity.
During the lockdown periods of the pandemic, the programme continued online with high profile sporting stars and other celebrities joining the sessions to talk about their own their mental health and provide inspiration for the group.
Jacob Kelly, Mental Health Support Worker, who runs the Recovery Through Sport programme, said: "We are incredibly proud to have now won this top award for a third year in a row. It is an absolute honour to receive recognition for the positive efforts we are making to support wellbeing. It just shows how important sports and exercise are for improving mental health, and how grassroots football is fun, inclusive and enjoyable for all."
Josh, who attends the Recovery Through Sport sessions, said: "The online sessions have given me something to look forward to and focus on and helped make me feel more connected. They've given me more confidence in talking in a group situation and a chance to meet inspiring people. The programme has made me feel positive about negative experiences and relieved the shame I felt around talking about my own mental health. Overall, it has been a great insight into these sports stars' lives that I will remember for a long time and take lessons from."